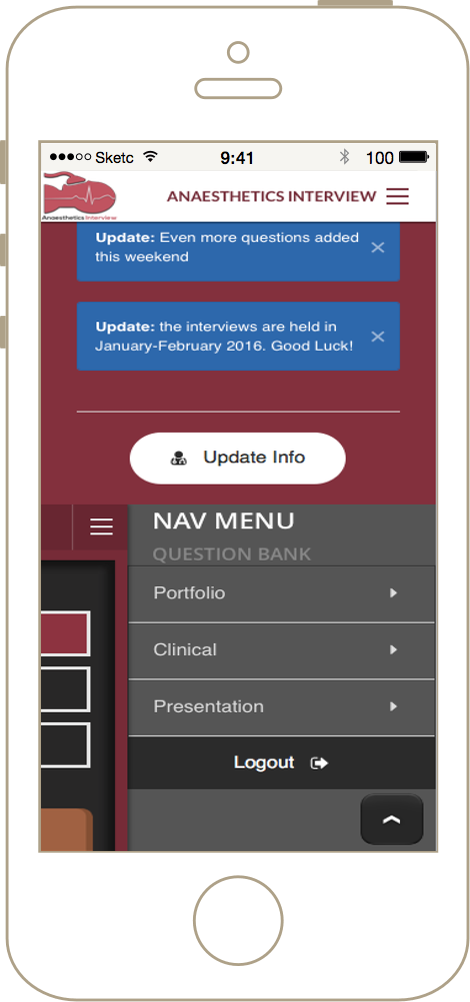 CT1 Anaesthetic Interview

Online Interview Preparation
Anaesthetic Interview offers a Question Bank of CT1 anaesthetic interview scenarios and questions that you can use to prepare for your interview. The question bank is currently in BETA as we have had lots of demand to make it available for the 2017 interviews as we continue to expand the content.
Comprehensive answers accompany every question and moderated comments help to stimulate discussion surrounding contentious topics. All questions are uniquely designed and selected to prepare you for CT1 Anaesthetic and ACCS Interviews. Registration also includes bespoke CV analysis, monthly cases and support up to the interviews.
Safe and Secure Registration Online via Stripe 2048-bit SSL Encryption
Anaesthetic Interview Online Preparation
£95 £75
Online Question Bank, Personalised CV Analysis, Emailed Cases, Videos and Support Up To The Interviews
Access Up To The Interview Week

★ Over 25 unique scenarios ★
★ Access anywhere, anytime ★
★ Navigate questions using the Dashboard ★
★ Evidence-based, interactive explanations ★
★ Questions use case-based format ★
★ Clinical scenarios explained ★
★ Portfolio scenarios with example answers and frameworks ★
★ Presentation scenarios with tutorials and explanations ★
★ Personalised CV Analysis ★

Payment is safe and secure via Stripe no payment details are held online by Anaesthetic Interview. Data is sent securely via 2048-bit SSL Encryption.
Purchasing access to the Question Bank is for single person personal use only.
All questions are unique and designed for personal use only.
Copying and distributing access or the questions is strictly prohibited.
Jump Into The Largest Bank Of Anaesthetic Interview Questions Available
Portable, Responsive Design, Question Tracker, Videos, CV Analysis and Email Cases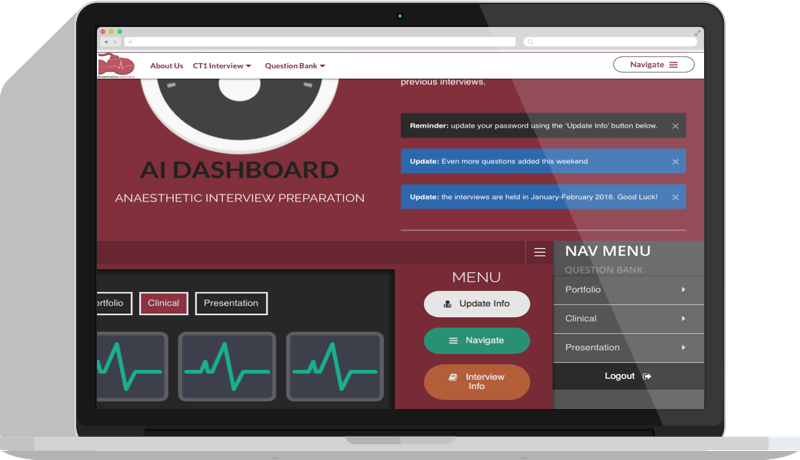 The question bank is truly responsive meaning that it works equally well on mobiles, tablets or home computers.

Anaesthetics Interview Questions can be accessed from anywhere there is an internet connection meaning you can revise for the anaesthetic interviews between theatre lists at work, on the go or in the comfort of your own home.
The Dashboard is the hub of the Anaesthetic Interview Questions Bank and features interactive, intuitive navigation links making it easy to access questions.

The Anaesthetic interview questions themselves are interactive and case-based and include radiographs, anatomy and images and videos.

If you are struggling with a question our tutors can be contacted via email and our questions tracker allows you to start up where you left off and to assess your progress by marking questions as incomplete or complete.
See What Our Users Thought
Thanks again for all the help in preparing for my interviews. The questions were very accurate and the ongoing help up to the interviews was fantastic.

John, Mersey Deanery, UK

The website was brilliant and I felt really prepared on the day

Tom, Oxford Deanery, UK

I got my first choice job after using the question bank. You guys have revolutionised interview prep and made it really simple

Hannah, Severn Deanery, UK

Just wanted to say thanks for the CV analysis. I got full marks on the portfolio station

James, Severn Deanery, UK

I got my first choice job in Severn. Thanks again!

Kartik, Severn Deanery, UK